Handy Stuff for Vegetarians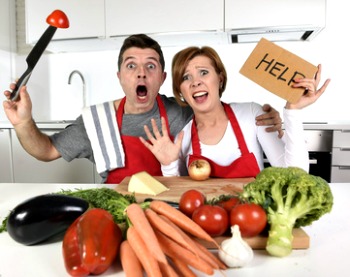 Vegetarian or not, many of us appreciate things that make life easier and/or more pleasant in the kitchen. On this page I've noted some useful items that Chef Dan and I are either using now or thinking of buying soon.

For all of these and any other products you may buy as a result of clicking a link at this site, I will receive a small commission. Should you have questions about any of these products, please feel free to contact me.

  Kitchen


Two of these products we could hardly manage without; the others, while not absolutely essential, we're also very glad to have. To read further description and product reviews, please click the images...again, understanding that I will receive a small commission from anything you might buy as a result of so doing. Okay?

For us, this salad spinner definitely falls into the essential column, although I'll be looking at some sticker-shock if we ever have to replace our own. If you've never used one of these, you'll be amazed at how much quicker (and better, IMHO) you can wash your greens.

Generally, I've found that the most-effective spinners feature Lots of openwork in their spin-baskets for escaping water, as this OXO model does. If you can, avoid the ones with heavy vertical ribs, as they don't seem to do as good a job.

| | |
| --- | --- |
| | Although in general I prefer to freeze-and-squeeze, the EZ Tofu Press is great when you're "pressed" for time. But please note that you can crumble the tofu if you apply too much force. (Guess how I know this...) |
| | |
| --- | --- |
| | Another must-have for us, the inversion blender is unsurpassed for blending soups and sauces right in the pot, even when the contents are fairly hot. Unlike what your countertop blender may do if you're not cautious, this one won't shoot hot stuff all over the place IF you keep the blender low in the container. When we have to replace the one we have, I'll be looking at this one pretty hard...although wishing for a lower price(!) |
| | |
| --- | --- |
| | Too much food going to waste at your place? I feel your pain. One way to combat that and also build a nice little stash is to dehydrate some of the overage. Moreover, you can make great travel protein that way, as well. Although our own dehydrator is an old Excaliber, when we have to replace it I think I might go with this Chessman. (But also please note that I have no direct experience with this brand as yet; I'm just going by the reviews.) |
 

Cookbooks

and References

Say hello to a cookbook freak (even though Chef Dan does a lot of the cooking), but what wonderful dishes I often blunder across. And in my defense I have to say that I usually buy these second-hand from Amazon or some cool used-book store. Most of those I'm recommending here likely offer that option. Although quality can vary, obviously, I've had pretty fair luck with second-hand purchases so far. (Please click its image to visit the sales page of any item that interests you.)

| | |
| --- | --- |
| | As far as I'm concerned, the Vegetarian Meat and Potatoes Cookbook can hardly be beat for tasty and hearty recipes—whether you're vegan/vegetarian or not. Three of my favorites: red potatoes stuffed with tapanade, baked polenta with porcini mushrooms, and Provençal potato salad (although we roast the potatoes instead of boiling). We're talking insanely delicious here. |
| | |
| --- | --- |
| | Its imaginative and nutritious recipes boost This Can't Be Tofu onto the winners' shelf for us. But if you prefer lots of illustrations, you may be disappointed (as some reviewers appear to be). For us that part doesn't matter too much, but every cook is different. Useful features for "newbies": descriptions of the tofu varieties and cooking instructions. |
| | |
| --- | --- |
| | So—the good new is that EatingWell's Vegetables is a simply terrific cookbook and reference. The other news is that (at this writing) a hardback copy costs nearly 23 bucks and the Kindle version 15. Used versions, however, begin at around 8 dollars. Perhaps not such a harsh price, if only for the photographs and instruction...not to mention, the recipes themselves! (One of my own favorites is shaved Brussels sprouts salad with toasted hazelnuts.)  |
| | |
| --- | --- |
| | Although not actually a vegetarian cookbook, Great Food Fast has some delicious (and quick) recipes. (Ms. Stewart has also issued a veggie cookbook and one for vegetarians as well.) Our favorite recipe? Hard to choose, but probably the (pretty simple) asparagus tart; we also really like the creamy corn soup and the zucchini soup (although we pare down the salt of the latter two a Bunch) and many others, really. |
A great source (IMHO) for advice on adopting a vegetarian lifestyle, Living Vegetarian discusses the vegetarian shopping list and the nutritional aspects of a largely plant-based diet. The author also covers vegetarian "etiquette," ways to eat out successfully (and without pushing people around), and easing your mindset away from meat—and helping your family do so as well, if that's their wish.
| | |
| --- | --- |
| | For both vegans and vegetarians, Vegan Vittles can be a wonderful resource, providing recipes for homemade veggie "meats," "uncheeses," and cool egg and dairy substitutes. Unfortunately, it's becoming harder to find. As I've already mentioned somewhere on this site, I'm addicted to her white-bean pasta sauce. Wonderful stuff! |
  Ingredients

| | |
| --- | --- |
| | If you're inclined to make your own seitan, which is a cheaper and more-flexible way to go, you'll need Gluten Flour. Your local supermarket may carry it; if not, you might give Amazon a shot. So far, I've used both Bob's Red Mill and the Honeyville Farms product with pretty good results. BTW, if you have the time and ambition, you can also make seitan truly from scratch. |
*I will receive a small commission for products you purchase from Amazon as a result of clicking the link above.
The material at this site is NOT medical advice, as I am neither doctor nor nutritionist. What I am is merely someone who's lived successfully on a vegetarian diet for many decades...and I transitioned from omnivore to vegetarian gradually. Please check with your doctor if you're considering big changes to your own diet.
Also, be sure to find a dependable source of Vitamin B12.

Vegetarian Diet Tips for a Slimmer, Healthier Body
  Copyright 2010-2021. Lynda Edwards. All rights reserved.