Penne Pasta Recipes
For the vegetarian, penne pasta recipes can be a godsend. Because just about everybody loves pasta, whatever their attitudes toward meat and the eating thereof. So, pasta dishes are a great choice when you're trying to accommodate a variety of eating preferences at the same table. Here's one of our favorites: pasta primavera salad.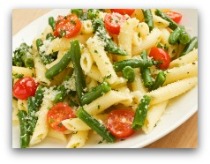 To get "al dente" pasta, which this recipe requires, we generally just follow the directions on the box...since brands tend to vary slightly in the cooking time required. But one rule of thumb is to taste after nine or ten minutes, just in case. And definitely for this recipe, as you don't want the pasta overly soft.
Now to the recipe. Both delicious and easy, it's a great favorite at our house. Perhaps it'll score for you as well. And do check back from time to time, as "Chef Dan" will be adding more penne pasta recipes. In fact, a nice penne "putanesca" is coming soon...



Pasta Primavera Salad
Serves 4 to 6 people
½ pound dried penne (De Cecco brand, if you can get it; it seems to hold up better after being dressed)
1 cup chopped celery
1 cup grape tomatoes
1 cup lightly cooked asparagus chunks or green beans
1 tablespoon toasted pine nuts
½ cup low-fat feta cheese (if you have nonfat, so much the better)
Optional: 6 to 8 kalamata olives, halved
*About ½ cup of pesto dressing (see preparation note)
In a large pot, cook the penne in lightly salted water for 7 minutes or so. You want the pasta to be slightly tougher than al dente, because it softens as it sits.
Drain, rinse with cold water, and toss with a tablespoon or two of extra-virgin olive oil. Allow to cool.
When the penne reaches room temperature, pop it into a salad bowl and toss with the remaining ingredients.

*Preparation note: To make the dressing, thin about ¼ cup pesto (or less, according to your taste) with a scant third of a cup olive oil and about a teaspoon of lemon juice. Don't be too generous with the lemon: if this dressing is too tart, the acidity obscures the flavor of the basil.



Return to Easy Pasta Recipes from Penne Pasta Recipes
Return to a Vegetarian Diet from Penne Pasta Recipes