Simple Vegetarian Recipes

Simple vegetarian recipes: Do you perhaps wonder if such things actually exist, assuming this phrase to be just another oxymoron? If so, here's good news: whatever you may have heard to the contrary, vegetarian recipes needn't be arduous and complicated to prepare. In fact, we'll prove it to you with the recipes and suggested dishes at this site.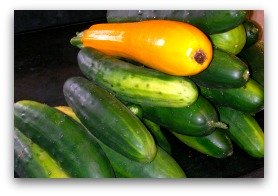 But first, let's talk a moment about vegetarian cuisine in general. For one thing, it encompasses way more than green beans, corn, and tomatoes. Which you knew already, but perhaps you've never given much thought to the delights of a hearty vegetarian chili or vegetarian moussaka or vegetarian shepherd's pie.

Such dishes, common fare to the vegetarian epicure, can be equally pleasing to the palate of the omnivore. And how about vegetarian quiche or vegetarian lasagna? You'll find either links or instructions for these latter two below.

Really Simple Vegetarian Recipes
Something to remember: whether simple or otherwise, vegetarian recipes often benefit from herbs generously applied. In this way, they're not unlike "regular" recipes. If you generally use dried herbs yourself, however, please note that you'll need roughly three times the amount of fresh herbs to get the same flavor punch. However, fresh herbs do often yield a brighter flavor.  

Also, it's good to stay alert for good sources of protein to add to your recipes, not nearly the dilemma for vegetarians it once was. And how lucky is that? Tofu and tempeh, seitan, beans and grains, and dairy (if you're not vegan) make great additions to vegetarian recipes. But with a little imagination, you can often put together great dishes from whatever ingredients you have on hand, whether protein-laden or not. (I think of this as being in "flex mode.") Here are just a few simple vegetarian recipes to play around with...

 Salads
Greens and citrus. Toss some sugar-snaps and/or snow peas, sunflower sprouts/greens, orange segments, and feta with just a touch of your favorite dressing. Or even leave the dressing off altogether for a clean, bright taste. If you have endive, fan the leaves as a nest and mount the salad on top. Optional: if you use snow peas, blanch them for a few seconds; remove the membrane from the orange segments. Here's a great demo.

Fennel anyone? Toss some thinly sliced fennel with blanched green beans and orange segments (membranes removed). Add some walnuts or sliced almonds, and you'll have a tasty and crunchy salad. (Dress or not, as you prefer.)

Caprese with a crunch. Toss some tomato chunks, celery, fresh mozzarella, and a few kalamatas with a little pesto (thinned with light olive oil and lemon juice) and some Italian herbs, grab a (small) sourdough roll, and you've got lunch! Such a deal: a vegetarian recipe that's both simple and fast.

 Soups
Green-chili soup. Try this delicious green chili soup on a cold and gloomy day. Yup, quick and easy: you're gonna love it.

Very simple borscht. Click on the link for the world's easiest summer borscht recipe (and one of the tastiest). You'll need to scroll down a bit when you arrive at the page, but it's a small price to pay for a really simple vegetarian recipe for a warm day... 

 Side Dishes

Best green beans ever. Toss very slightly cooked green beans and toasted pine nuts (or sliced/slivered almonds, if you're out of pine nuts) with a little pesto thinned with a bit of the cooking water. Serve with tongs from a warmed platter, and make a pig of yourself. Click on the link for ways to cook green beans when you'd like less oil and/or sauce than in a stir-fry.

Leftovers Niçoise. Chop and then sauté a few shallots or small onions in a little olive oil. When soft, add a little chopped garlic and sauté for another 5 minutes or so. (Or use a small amount of onion/garlic powder.) Toss in a few small red potatoes (cooked and quartered), and stir for a minute or two.

Then, add a can of diced tomatoes, several small chunks of seitan or cooked tofu, some chopped basil or dried herbs of your choice, and a tablespoon of capers or pumpkin seeds. If you have artichoke hearts, throw those in, too. Simmer until the flavors have mingled thoroughly, and add some cooked green beans. Continue simmering only long enough to completely heat the beans.

Just before removing from heat, toss in about a quarter-cup of kalamata olives; then serve to cheers and glad cries. This could be a side dish or, if served over polenta or another hearty starch, could anchor the meal. Enjoy!
 Main Dishes

Spinach lasagna.
Although this spinach lasagna recipe specifies canned sauce for convenience and speed, you can jazz it up with a little wine and pesto...or even with homemade sauce, if you so choose.

Crustless quiche. If you'd like something light, you can switch into "flex mode" for this dish. Whisk 6 eggs, your favorite seasonings, and about 1/2 cup of low-fat milk. Add in some chopped veggies (blanched) and grated cheese. If you feel so inclined, perhaps toss in some lightly browned tofu chunks, a little leftover pasta, and/or perhaps some diced green chilies as well.

Spoon or pour into buttered muffin tins, and bake in a 350-degree oven for 20 to 25 minutes or so. You want these to be fully set and golden brown. (Rotate the pans about halfway through the baking cycle. After removing the quiches from the oven, sprinkle a little grated cheese over each one. Let them sit for 5 minutes or so before scooping them out.

You can also bake these mini-quiches ahead and simply reheat in the next day or two for a nutritious and tasty breakfast that requires minimal effort. If easier cooking works for you... ;-)

Please understand that the material at this site is NOT medical advice, as I am neither doctor nor nutritionist. What I am is merely someone who's lived successfully on a vegetarian diet for many decades...and I transitioned from omnivore to vegetarian gradually. Do check with your doctor, though, if you're considering big changes to your own diet. Also, be sure to find a dependable source of Vitamin B12.

Living Vegetarian the Easy Way
  Copyright 2010-2023. Lynda Edwards. All rights reserved.