Vegetarian Shepherd's Pie —


Comfort Food Extraordinaire

Hey—you're human. Sure you love shepherd's pie. So here's a vegetarian shepherd's pie as hearty and delicious as the original. In fact, many of the traditional ingredients remain the same. Although we've axed the carrots, which somehow don't seem quite right for this recipe.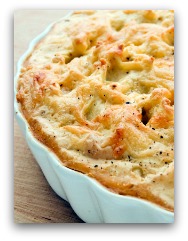 But the mashed-potato crust remains! So, really, the only significant change lies in substituting a nutritious vegetarian mixture for the ground lamb or beef. No magic, no sleight of hand: just a little common sense and imagination.

In this version, the filling features tofu, portobello mushrooms, and (precooked) lentils. But experiment with this yourself. For example, a mixture of ground seitan, chopped spinach, and chopped black olives would be delicious as well—although maybe cut back some on the liquid to offset the spinach. Bottom line? Lots of ways to make a great vegetarian shepherd's pie.




Vegetarian Shepherd's Pie


One of the world's great comfort foods, as well as a supremely practical dish out on the range, shepherd's pie originally contained meat and plenty of it. This revision, which my husband invented some years ago, uses a tasty combination of seitan or tofu, cooked lentils, and Portabellos. See what you think…

Topping


2 or 3 large potatoes, scrubbed, peeled, and cut into small chunks (get these boiling right away)
1 or 2 tablespoons butter; dairy-free sour cream if you're vegan
½ cup low-fat or nonfat milk; if you're vegan, use your favorite cow's milk substitute and maybe a bit less of it.
salt and pepper to taste
Optional: 2 cloves garlic, minced
½ to ¾ cups grated cheddar cheese; leave off or use non-dairy to make vegan


Filling
1 tablespoon lite olive oil
1 or 2 tablespoons chopped onion
a little garlic powder, if desired
½ bell pepper, chopped
½ cup Portobello mushrooms (a.k.a. portabellas)
**1¼ cups tofu, torn into small pieces
½ cup Roma tomatoes, chopped; if you use regular tomatoes, drain before adding to the filling
½ cup beef or faux-beef broth (we use Edward & Sons not-beef bouillon cubes) and a half-cup of dry red wine
1 cup cooked lentils
½ to 1 teaspoon dried thyme
½ to 1 teaspoon dried oregano
½ bay leaf; remove before serving
½ to 1 teaspoon mild chili powder
¾ cup corn, fresh or frozen
**Please be sure to read the preparation note (freeze-and-squeeze) about tofu.

Assembly
Preheat oven to 350 degrees.


Heat the oil in a large, deep skillet or Dutch oven. Sauté the onion and green pepper until soft. Add a bit more oil and stir in the portobellos, tofu, and herbs, cooking until the tofu begins to brown.


Add in the tomatoes and ½ cup of the liquid, simmering until most of the liquid has been absorbed. Add more liquid if the mixture seems too dry.


Pop in the cooked lentils, stir, and cover. Simmer for 5 minutes or so; then, turn off the burner and stir in the corn.


Transfer to a warmed 2-quart baking dish and cover. OR cover and leave in your cast-iron skillet, which is what we do.


Mash the potatoes with butter and milk, adding salt and pepper as necessary. (Not much salt please, as the cheese topping will be salty.)


Spread the mashed potatoes evenly over the filling mixture. Then layer on the grated cheese and place the skillet or casserole dish in the oven.


Bake uncovered until the cheese is bubbly, 30 to 35 minutes. (In some ovens, the temperature may need to be 375.)

Serve hot with crusty bread and a crisp green salad, and you have food for the Gods!


Please understand that the material at this site is NOT medical advice, as I am neither doctor nor nutritionist. What I am is merely someone who's lived successfully on a vegetarian diet for many decades...and I transitioned from omnivore to vegetarian gradually. Do check with your doctor, though, if you're considering big changes to your own diet. Also, be sure to find a dependable source of Vitamin B12.

Living Vegetarian the Easy Way
  Copyright 2010-2023. Lynda Edwards. All rights reserved.