[Welcome. Although the site is undergoing a redesign right now, many of our pages will appear as usual. Others may have some glitches, and we thank you for understanding.]

List of Vegetables that
Flower or Bear Fruit

Turning into veggie fan? Then, perhaps you'll enjoy this list of vegetables, the second in our series. As you'll see, these veggies belong only to the "fruiting and flowering" category and include definitions only if they seem a little out of the ordinary.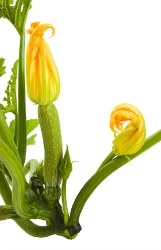 If you really wanted a list of green and leafy vegetables, just click here. For podded veggies, click here. But don't be too hasty: these are good veggies, too. Although there are fewer of them than of green and leafies, for example, it'll still take you a while to sample every one.
And that's half the fun anyway. If you're going to "do" veggies, you just as well go all the way, right? So look for recipes that use these—or make up your own.
If we've missed some veggie that belongs here, please drop us a line. We like to hear about and try out new vegetables ourselves. In the meantime, here's the list of vegetables we've come up with thus far in the fruiting/flowering category. (Many thanks to Foodista and Wikipedia for help with some of these definitions.)



List of Vegetables




Flowering and/or Bearing Fruit
From the Tree

Avocado

Breadfruit: has the texture and consistency of yams, sweet potatoes, and similar ground veggies; apparently, the core should Not be eaten but removed prior to cooking. Click here for a breadfruit doughnut recipe. (Who knew?!) And thank you, Foodista.
From Plants

Acorn squash
Armenian cucumber: a.k.a. snake cucumber, snake Melon, yard-long cucumber; tastes like a cuke and usually eaten with the skin on. My dad raised these once, and they were pretty good—if cucumbers are your thing.
Aubergine: think eggplant.

Bell pepper

Caigua: used in Peru as a vegetable, but also has medicinal applications.
Cape gooseberry: ground Cherry, husk Tomato, golden Berry; to me these seem to be on the cusp between veggie and fruit. Very tasty, though.
Capsicum
Cayenne pepper
Chayote squash
Chili pepper
Courgette (see zucchini)
Cucumber

Eggplant (see aubergine)

Luffa: a squash, picked before maturity to eat as a vegetable.

Malabar gourd: sometimes called Asian pumpkin; rich in protein content and cooked as a vegetable when immature.

Parwal: sometimes called pointed gourd or green potato; used in soups, stews, and curries.
Pattypan squash: these are the pretty little white summer squash with scalloped edges.
Pumpkin

Raw mango: sometimes the unripe mango is eaten pickled or in chutneys—or even on its own with salt, chiles, or soy sauce.)

Snake gourd: a long, vine-grown fruit used as a vegetable and also for medicine. According to Wikipedia, also used for making didgeridoos(!)
Squash: a.k.a. marrow. (Did you know that? I sure didn't.)
Sweet corn
Sweet pepper: bell pepper, pimiento, cachucha, European sweet, bull horn (thin, curved and green), cubanelle (long, tapered, yellow to red), and sweet banana pepper.

Tinda: also called Indian round gourd or apple gourd or Indian Baby Pumpkin; squash-like and grown for its immature fruit, which is eaten as a vegetable.
Tomatillo: a.k.a. husk tomato; relative of the common tomato and indispensable ingredient of salsa verde.
Tomato

Winter melon: also called white gourd, ash gourd, or "fuzzy melon"; grown for its very large fruit, which when mature is eaten as a vegetable.
West Indian gherkin: similar to and also related to the cucumber.

Zucchini
Flowers or Flower Buds

Artichoke
Broccoli
Cauliflower
Squash blossoms
Edible flowers of all kinds (Click here to read more about these treasures.)
That's it (so far) for this "list of vegetables," and of course there will be some fruited/flowering veggies missing. As always, if you have one to suggest, please let us know. Meanwhile, check out our other two veggie lists: list of vegetables green and leafy and our list of podded vegetables.
You might also try to find this excellent reference book in your library: Vegetables, Herbs and Fruit: An Illustrated Encyclopedia. With incredible photos, it's a pretty cool resource for anyone wanting to find ways to eat more fruits and veggies.

If your library doesn't have it, Amazon does...for a price.
Here's a link to its sales page,
where you can get a description and read some reviews.
Back to a Fruit and Vegetable Diet from
List of Vegetables that Flower or Bear Fruit
Back to a Vegetarian Diet from
List of Vegetables that Flower or Bear Fruit