A Kale Soup Recipe Worth Trying!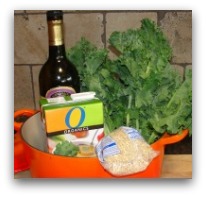 Looking for a tasty kale soup recipe? Try this one, which makes a wonderful (and informal) meal when paired with a salad and perhaps some bread for dipping. Although kale and barley both contain some protein, the "serious" protein comes from tofu. If you plan to add that, please be sure to read the preparation note below. If you're a dedicated carnivore, simply substitute chicken, beef, or ham for the vegetarian option listed below.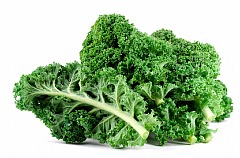 Kale and Barley Soup

(serves 4 to 6, depending upon appetites)


1-2 teaspoons olive oil
1 clove garlic, peeled
½ medium onion (we generally use less than that)

4 cups vegetable broth and 1 cup water or dry white wine (Substitute beef broth for the veggie broth, if you prefer, or try a vegetarian "beef" broth base.)

½ cup chopped celery
½ cup uncooked barley
1 bay leaf (remove before serving)
1 teaspoon dried thyme (more or less, according to your own taste)
**1 pound tofu (see preparation note)
½ cup chopped mushrooms (portobellos give a nice rich taste)
1 large bunch of fresh kale, steamed & chopped, or a 10-ounce package of frozen chopped kale (defrosted and drained). If using fresh kale, cut out the coarse stalks before chopping.
salt and pepper to taste


In a large, heavy pot,

heat the oil over a medium heat. Add the chopped onions and garlic, and sauté until soft.
Add the vegetable broth, barley, carrots, celery, and seasoning. Bring the ingredients to a boil and then reduce heat. Cover and simmer the soup for about an hour (or until the barley is nearly done).
While the soup is cooking, brown the tofu in a little olive oil and thyme. Add a splash of dry white wine, and stir until absorbed, and set aside. (You can also skip this step and use smoked tofu that you crumble by hand.)

When the barley is nearly cooked, add the chopped mushrooms, kale, and browned tofu. Cover the pan again and simmer for another 10 or 15 minutes. Locate and remove the bay leaf.
Serve with salad and brown or sourdough bread to cheers and glad cries.
Optional: garnish with shredded parmasan or Romano cheese.
For a thicker consistency, give the soup a little whirl with your immersion blender. Or place a cup or two in a regular blender or food processor, and pulse until smooth. Pour back into the pot and stir/reheat.
Please understand that the material at this site is NOT medical advice, as I am neither doctor nor nutritionist. What I am is merely someone who's lived successfully on a vegetarian diet for many decades...and I transitioned from omnivore to vegetarian gradually. Do check with your doctor, though, if you're considering big changes to your own diet. Also, be sure to find a dependable source of Vitamin B12.

Living Vegetarian the Easy Way
  Copyright 2010-2023. Lynda Edwards. All rights reserved.