Another Seitan Recipe —
Simple but Tasty

Say hello to **instant gluten flour, the principal ingredient of this simple seitan recipe. Also known as "vital wheat gluten," commercial gluten flour greatly simplifies the making of seitan—which at one time was a fairly arduous undertaking. But no more, greatly to the relief of vegetarians everywhere.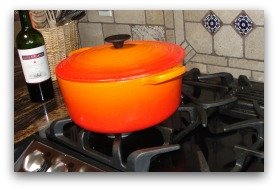 Although this particular recipe calls for simmering the gluten mixture, others call for baking, braising, or even pressure cooking it. Seitan can also be made with the bake-and-simmer method.

So, you have plenty of options when deciding how to make seitan. See how you like this one. We're partial to it ourselves because of its ease and adaptability.



Seitan Cutlets



Mix together the following ingredients:
1 cup **instant gluten flour (vital wheat gluten)
2 tablespoons nutritional yeast (if you omit this ingredient, you may find your seitan rather rubbery)
¼ teaspoon garlic powder
½ teaspoon (or more) rosemary or thyme
Scant cup of liquid (water or veggie broth; chicken or beef broth, if you're not vegetarian)
Knead

for a minute or two to blend thoroughly.

Divide

into small balls and flatten into mini-cutlets.

Drop

cutlets into a cooking pot containing 6 cups vegetable broth (or chicken/beef broth).

Correct

seasoning, adding herbs and perhaps some tamari according to your taste.
Cover pot and bring to gentle boil. Then, lower heat and simmer gently for 50 to 60 minutes.

Scoop

out cutlets, letting them drain and cool slightly before serving. Then, enjoy!




**I generally use Bob's Red Mill Gluten Flour, 22-Ounce Packages (Pack of 4), single packages of which can often be found in grocery stores. If yours does not (or will not) stock it or another acceptable brand, and you live in the USA or Canada, you can buy it from Amazon and other online and/or mail-order sources.

[More in the mood for hot dogs than for cutlets? Then check out this intriguing recipe.]
Please understand that the material at this site is NOT medical advice, as I am neither doctor nor nutritionist. What I am is merely someone who's lived successfully on a vegetarian diet for many decades...and I transitioned from omnivore to vegetarian gradually. Do check with your doctor, though, if you're considering big changes to your own diet. Also, be sure to find a dependable source of Vitamin B12.

Living Vegetarian the Easy Way
  Copyright 2010-2023. Lynda Edwards. All rights reserved.