Vegetarian Diet Plans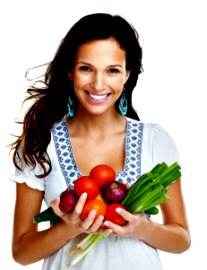 Why vegetarian diet plans? Well, for one thing, they make your life as a vegetarian waaay less complicated. And, for another, they're a great way to be sure you're getting the right nutrients—particularly if you're a relative newcomer to vegetarian eating.

Particularly, also, if you've always assumed that adopting a vegetarian diet means eating only veggies. Unless you're maintaining a conscious raw-food lifestyle, you will (IMHO) need to eat other things as well—such as vegetarian protein, for example.

But, just as successful vegetarian diets rarely confine themselves strictly to veggies, they also can't rely solely upon cheese, omelets, and quiche. Or upon "vegetarian" pizza, unless that pizza really is mainly veggies with a mere sprinkling of (preferably low-fat) cheese. Or upon nuts, for that matter. The cornerstones of a healthy vegetarian diet are both variety and moderation.

In short, such a diet requires thought and planning; a fair amount of pre-prep is also good and sometimes critical. Even the simple meals laid out below will come together more easily if you do some pre-prep or even some substitution (depending upon the state of your pantry). In fact, at least one of the menu suggestions below, stuffed cabbage, asks you to substitute a vegetarian protein for the traditional meat—which you may not even miss.


Two Days of Vegetarian Diet Plans

Day One


Breakfast
*2 scrambled eggs and some chopped tomatoes (perhaps in a warm spinach or tomato tortilla—be still, my heart)
*Unsweetened beverage: coffee, tea, or hot lemon water
Snack
*Small piece of fruit or veggie—perhaps sunflower sprouts, if you're so fortunate as to have them
Lunch
*Vegetarian pasta e fagioli
*Snow pea and orange salad
(Visit this page to see how we put this salad together ourselves: simple vegetarian recipes).
*Unsweetened beverage: selzer, perhaps, if you have no digestive "issues"
Snack
*Greek yogurt with a few chopped walnuts or slivered almonds, or 6-8 ounces of a protein drink, commercial or home-made
Dinner
*Stuffed cabbage leaves
(Substituting vegan burger crumbles for the meat and perhaps quinoa for the rice.)
*Sautéed beets, peeled and grated beforehand, with lemon juice added before serving
*Apple slices, lightly poached in honey-lemon water and sprinkled with cinnamon and chopped walnuts
*Water, herbal tea, or wine




Day Two

Breakfast
*1 cup cooked oat groats or steel-cut oats, sautéed in a little oil and topped with a few walnuts and some chopped tomatoes
(Walnuts for their Omega 3 content and tasty crunch, but don't overdo it.
*Half a grapefruit 
(Handy skill: segmenting citrus fruits. See a demo at YouTube.)
*Unsweetened beverage
Lunch
*Green salad with some vegetarian bacon bits sprinkled in
*Black bean soup, with crumbled tofu or with chopped seitan, if you're not gluten-intolerant
(A canned vegetarian variety is fine, but watch out for excess sodium; even some of the organic versions are rather high.)
*Wheat roll or corn bread
*Unsweetened beverage
Snack
*Walk-around snack-food or half a bagel with yogurt cheese or non-dairy cream cheese
Dinner
*Stir-fry with tofu, Chinese veggies, and a few cashews
(Spinach or chard and mung bean sprouts would also do the job.)
*Cup or so of brown rice
*Grilled tomato slices
*Fresh fruit
*Water, herbal tea, or wine



And there you are—two days of pretty simple vegetarian diet plans. You can do this! And, if weight loss is part of your own plan, add in a 30-minute walk five or six days a week. The pounds will drop faster, and you'll feel great as well.

Please understand that the material at this site is NOT medical advice, as I am neither doctor nor nutritionist. What I am is merely someone who's lived successfully on a vegetarian diet for many decades...and I transitioned from omnivore to vegetarian gradually. Do check with your doctor, though, if you're considering big changes to your own diet. Also, be sure to find a dependable source of Vitamin B12.

Living Vegetarian the Easy Way
  Copyright 2010-2023. Lynda Edwards. All rights reserved.