Our Favorite Black Bean Soup Recipe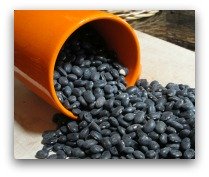 Here's a simple but hearty black bean soup recipe that comes with a touch of Southwest punch. Better yet, with *short-cut soaking you can put it all together from scratch and enjoy it for dinner tonight.

Sure, you can use canned black beans, but this particular soup tastes considerably better (IMHO) when you cook your own. Plus, you control the beans' sodium content, a nice feature given the high salt/sugar content of prepared foods these days.

For maximum southwestern impact (and protein), be sure to include the green-chili/yogurt garnish when you serve this soup.




Southwest Black Bean Soup

Serves six to ten, depending upon portion sizes (and appetites).
Soup Ingredients

1 pound dried black beans, rinsed and picked over.
5 cups faux beef broth; I use Edward & Sons Not-Beef Bouillon Cubes for this.
4 to 5 cups water; add more later if needed [You want 3-4 cups of liquid per cup of dry beans.]
1 cup dry red wine
1 large can chopped tomatoes, 28 ounces or so
1 cup mild salsa—less, if you don't care for much "hot"
1 medium onion, chopped
1 green pepper, chopped or quartered
1 bay leaf [be sure to remove the bay leaf before serving]
½ teaspoons thyme
2 teaspoons ground cumin
Salt and freshly ground black pepper to taste
1 cup corn (optional)
Garnish

⅔ cup plain nonfat or low-fat yogurt
½ cup chopped green chilis, drained
1 tablespoon minced cilantro
Preparation

Quick-soak the beans [see tip at bottom of page]; than drain and place in a large, heavy pot. Add the broth, water, wine, and bay leaf. [Don't worry about the beans getting tough from the salted broth; you'll be pureeing them later.]


Bring the beans to a boil, stirring now and then. Then reduce to a simmer and cook uncovered for about an hour.


Sautée the chopped onions in a frying pan until very soft.


Then, stir in the canned tomatoes, juice and all, and add the thyme and cumin. Cook for two or three minutes, stirring often.


Add tomato mixture to the beans, and simmer for another hour or so until the beans seem tender enough.


At that point, transfer them to a large bowl to cool a bit (rinse the pot as the beans cool).


In small batches, purée the bean mixture—using a blender, food processor, or immersion blender. When each batch is smooth but also retaining some "texture," return to the cooking pot.


Check seasoning at this point, adding salt and pepper as needed. Add in the corn, and gradually reheat the soup.


If it seems too thick, add hot broth or water; if too thin, simmer gently until it reaches the consistency you wish.


For the garnish, whisk the yogurt, green chilis, and cilantro until blended. At serving time, top each bowl of hot soup with a dollop of the garnish. Then prepare to take your bows.

*Preparation Note for Most Black Bean Recipes
When you need to speed things up, try this quick-soak method: first, pick over your dried beans (thus, avoiding broken teeth at the table). Then, rinse and pour the beans into your cooking pot with plenty of water. Bring to a boil and cook for 2 minutes or so. Turn off heat, allowing the beans to sit for at least two hours. Drain, rinse, and the beans are ready for the pot!

Please understand that the material at this site is NOT medical advice, as I am neither doctor nor nutritionist. What I am is merely someone who's lived successfully on a vegetarian diet for many decades...and I transitioned from omnivore to vegetarian gradually. Do check with your doctor, though, if you're considering big changes to your own diet. Also, be sure to find a dependable source of Vitamin B12.

Living Vegetarian the Easy Way
  Copyright 2010-2023. Lynda Edwards. All rights reserved.