Kale Recipes
Are you looking for kale recipes because you know it contains great stuff but maybe aren't so sure about actually eating it (or convincing loved ones to do so as well)? That's how I felt myself until I developed this recipe for kale chips. Although I use a dehydrator for these, I think they'd work fine if you bake them at about 200-250 degrees until they're as done as you want them.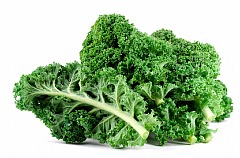 But if the chips don't ring your chime (ah, but they are so Good!), you can try the smoothies, salads, and/or soups listed below. All of them are great "vehicles" for kale's load of vitamin A, C, and K, plus protein and some other heavy hitters. Of the better-known veggies, only broccoli and spuds score higher for the latter.

Moreover, kale carries no sugar load whatever and also tastes better than some people expect. Yes, it genuinely does—a veggie SO worth eating and maybe even growing for yourself. If you're interested in doing that, click here for comprehensive instructions.) Now the recipes...

 Kale Smoothies

Obviously, one of the easiest ways to eat (well, drink) kale is with a smoothie. And, as it happens, smoothies are among the easiest kale recipes around. Here are two of my favorites: one involving several ingredients, the other just a few. Both are pretty tasty and a quick way to give yourself some energy and good nutrition.

Kale-Ginger "Detox" Smoothie
With this one, I use minimal honey. Maybe add it with a light hand yourself until you see how much sweetener you actually want.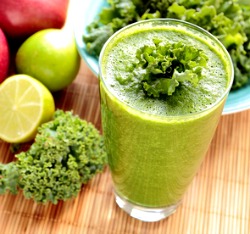 Kale-Banana Smoothie
Firmly in the flex-mode camp, this "recipe" has shed some enhancements over the years but remains a quick and refreshing pick-me-up. All you need are a couple handfuls of kale (or both kale and spinach), torn into bite-sized pieces; a squeeze or two of lemon or lime juice; some (pre-frozen) banana slices and/or perhaps apple.

For the liquid, use water or soy/coconut milk—depending upon how much protein you want to add. You can also add some protein powder, although it will affect the taste and texture, which is why I rarely include it anymore in this recipe.

Put the ingredients into your blender...or perhaps a "personal" blender. (My newest kitchen buddy is one of those, and boy does that simplify clean-up!)

Epica Personal Blender with Take-Along Bottle
  Kale Salad

Kale Salad with Golden Raisins and Toasted Almonds
This one really is tasty, although I leave the (optional) honey out of the dressing myself.

Simple Kale Salad
Here's a "flex" salad to try when you have some baby kale and a sweet potato calling your name. First, coarsely chop a couple of clean (raw) baby portobellos and marinate them an hour or so in a little olive oil, lemon or lime juice, and a little diluted tamari.

For the salad itself, toss as much *baby kale as you think you'll need with some coarsely grated sweet potato (or carrot) and sliced celery. Add the marinated mushrooms, toasted nuts of your choice, and (if you insist) some of the mushroom marinade. Toss again, and serve.




*If yours is mature kale, try blanching it before using it in the salad. Here's how. Put a few cups of water on to boil. As that's heating, tear the kale into bit-size pieces (no stems, please); then place these in a sieve. When the water comes to a boil, remove it from the burner and let cool for a minute or so. Then pour it over the kale and let drain. (If you're in a hurry, blot the kale with paper towels, or carefully roll it up in a clean tea towel.)

For that tip, a big thank-you to Nomi Shannon, of the The Raw Gourmet blog, who's also written a book of the same name (see left).

  Kale Soups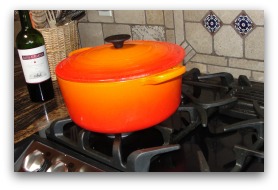 Kale and Barley Soup
A tasty concoction, this soup hearties up nicely with some Parmesan cheese. If you plan to raise the protein content with tofu, please be sure to read the prep note. To find the soup, click here.

Kale and Potato Soup
When you feel like moving into flex mode, put together your favorite potato soup—perhaps one you make pretty much by heart. During the last minute or so of cooking, add some pieces of kale (as many or as few as seem about right).

After removing the soup from the burner, let it cool just a bit and then purée it with your immersion blender. Or, if you don't have one of those, cool the soup a little more, and then blend it a little at a time in your regular blender. Voiá—another kale recipe in your repertoire.

If your regular potato soup contains other veggies, perhaps leave the soup unblended. Or, since you're already in flex mode, see how you like it puréed, as well.

---

Try adding kale to some other favorites and see how it strikes you. In the process, perhaps you'll discover not only some new kale recipes, but also a new veggie pal. This is certainly one worth having, as kale contains both lutein and zeaxanthin, which protect the eyes from macular degeneration. Some studies even indicate that kale also helps protect against colon cancer. And if that weren't enough, it's also a great source of calcium and iron, in addition to the vitamins noted in the introduction. (Friends yet?)

Please understand that the material at this site is NOT medical advice, as I am neither doctor nor nutritionist. What I am is merely someone who's lived successfully on a vegetarian diet for many decades...and I transitioned from omnivore to vegetarian gradually. Do check with your doctor, though, if you're considering big changes to your own diet. Also, be sure to find a dependable source of Vitamin B12.

Living Vegetarian the Easy Way
  Copyright 2010-2023. Lynda Edwards. All rights reserved.